It's all about the music this week on late night. With summer right around the corner, everyone from M.I.A. to the Black Keys are announcing tours and much anticipated albums for all of our summertime playlists. Tune in, you may find your perfect summer jam.
Top Music Picks
Monday, May 12 – M.I.A. on Seth Meyers
M.I.A.'s beat-laden music and rebel spirit has made her an exciting force in the music industry for nearly a decade. She's not only collaborated with the who's who of music –Timbaland, Diplo, Janelle Monae, to name very few – but her wildly hip style has landed her partnerships with Versace and has kickstarted her own clothing line. She recently rocked the House of Blues here in Boston with A$AP Ferg, and is about to embark on a summer-long string of dates that hit all of the ultimate music festivals throughout Europe.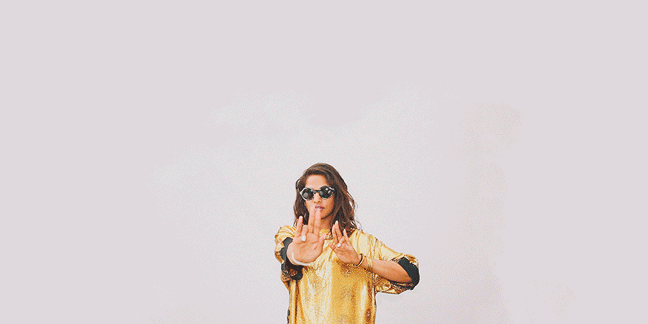 Monday, May 12 – Neil Young & Jack White (fingers crossed) on Fallon
Neil Young and White will do a Q&A segment with Fallon tonight to promote Young's new Third Man Records LP, "A Letter Home." Word on the street is that Young will be the one performing, but we're hoping that the enigmatic White – and possibly even Fallon – will join in for an epic jam. All this hype is starting to conjure memories of Fallon's unmistakable Young impersonations over the years.
Monday, May 12 – The Black Keys on Letterman
So much of the Black Keys' sound leaves you to think that their songs were unearthed somewhere in Nashville, or in their case, Ohio, from sometime between '69 and '73. The blues-rock revivalists just released their eighth-studio album, "Turn Blue," and have recently announced their plans for a 42-date trek across the nation, including a stop at the TD Garden September 21.
Thursday, May 15 – Iggy Azalea on Kimmel
The Australian rapper has mustered up insurmountable popularity with her brazen freestyles and raunchy emcee style. The bodacious blonde may soon be the next hip-hop queen after recently appearing on records for Rita Ora and Ariana Grande, and announcing that she will be adding the one and only "Jenny From the Block" to her collab roster.
Wednesday, May 14 –  Keb' Mo' on Craig Ferguson
Three Grammys, a 20-year music career and now a new album called, "BLUESamericana," Keb' Mo' seems as invigorated and unstoppable as ever. The blues man is no doubt a legend in his own right, earning a reputation as a modern master of American roots music.
Top Guest Picks
Monday, May 12 – Louis CK on Fallon
Louis CK is known for his shockingly crude, but still seemingly insightful comedy. His Emmy-award winning show, "Louie," started in on its fourth season last week and is rumored to include more hysterical parenting techniques, a monologue about an overweight woman's dating life, and like the previous three season, will help you feel less ashamed of your own awful, intrusive thoughts.
Wednesday, May 14 – Maya Rudolph on Fallon
The SNL alum is touring the late night circuit starting this week to push her new variety show, "The Maya Rudolph Show." In the same vein as "The Carol Burnett Show," Rudolph's new show will be her first venture back to live television and will feature Rudolph playing with her pals Kristen Bell, Andy Samberg, Fred Armisen, Chris Parnell, Sean Hayes and Craig Robinson.
Thursday, May 15 – Jennifer Lawrence on Fallon
Jennifer Lawrence is like that badass tomboy that lived on your block when you were younger and always beat (up) all the boys in neighborhood games. She's all over the big screen these days, with the new X-Men movie coming out and the continued filming of the much anticipated Hunger Games series.
Thursday, May 15 – Adam Sandler on Letterman
Just when we thought Sandler couldn't make an even worse movie than his ridiculous, "Jack and Jill," he came out with "Grown Ups 2," and now "Blended," where he plays opposite long-time friend Drew Barrymore. This one likely won't match up with "The Wedding Singer," that is for sure.
Friday, May 16 – Adam Carolla on Kimmel
Besides hosting the most downloaded podcast of all time, Carolla recently created a new show with Spike TV called, "Catch a Contractor," and now will be reunited with Jimmy Kimmel this week; the two will most likely be celebrating their 20th anniversary as friends/comedic rivals.